So you've signed up for Leave Me Alone, and you've blitzed your inbox to clear the clutter. But what do you do now to maintain this organized, clutter-free inbox going forward? Well, as the 'Marie Kondo' of inbox management, we're here with our email management tips to help you maximize your productivity and minimize inbox anxiety.  So picture your perfect inbox and let's start achieving it:
Five Go-To Email Management Tips
Keep Scanning Your Inbox
Our first tip is to regularly and consistently check in on your inbox using Leave Me Alone. You don't need to do this daily, but we recommend logging into your Leave Me Alone account dashboard on a biweekly schedule to make sure you are safely filtering out any additional newsletters you've accidentally signed up for (or any naughty spam that has found its way to you).
Explore Inbox Zero
You might have heard of the elusive 'Inbox Zero.' For those of you who haven't: put simply, Inbox Zero is a popular email management method that helps you keep your inbox clutter-free by handling emails as quickly as possible.
The first step in achieving 'Inbox Zero' is to clear your current inbox. This is normally initiated by managing your email subscriptions, which Leave Me Alone conveniently takes care of for you. After using Leave Me Alone, you should be unsubscribed from all the newsletters and email lists that you no longer want to receive. Then, you'll want to create a folder or label system and move your current inbox content into that new filing system. Don't be afraid to delete the emails you no longer need. This gives you a blank slate to start from going forward.
The email processing method for 'Inbox Zero' was first introduced by Merlin Mann, he recommends categorizing emails as they arrive into your inbox by following a strategy like the below:

Delete - If the email is no longer relevant or needed, delete it right away.  Or archive it if you might need it for reference later.
Delegate - If you cannot action this email and it needs someone else's involvement, forward it over to the relevant person for delegation.  Then, either archive it or add it to a folder called 'Delegated' so you can refer back to it if needed.
Do - If the email can be responded to easily and quickly (within two or less minutes), do it immediately
Defer - If the email requires more time or a more involved response, schedule a time in your calendar to address it.  Equally, if you're waiting on more information before you can respond, this would drop into the 'defer' category too.
The overall objective is that, by the end of every day, you maintain an empty inbox while staying on top of all your email communications. Sounds idyllic, right?
Roll up your favorite newsletters into a regular digest
As part of your Leave Me Alone membership, you also have access to our supporting feature: a regular Rollup. Rollups allow you to combine the email subscriptions you love into a regular digest delivered according to your schedule.
If you are subscribed to our 'Casual Emailer' subscription, you'll be able to create three weekly Rollups. If you're subscribed to our 'Inbox Zero Hero', you have the option to create up to 10 daily or weekly Rollups.
All your newsletters will be automatically filed into a separate folder, keeping them out of your inbox. Instead, you will receive the Rollup in your inbox at your preferred time, giving you control over this aspect of your emails.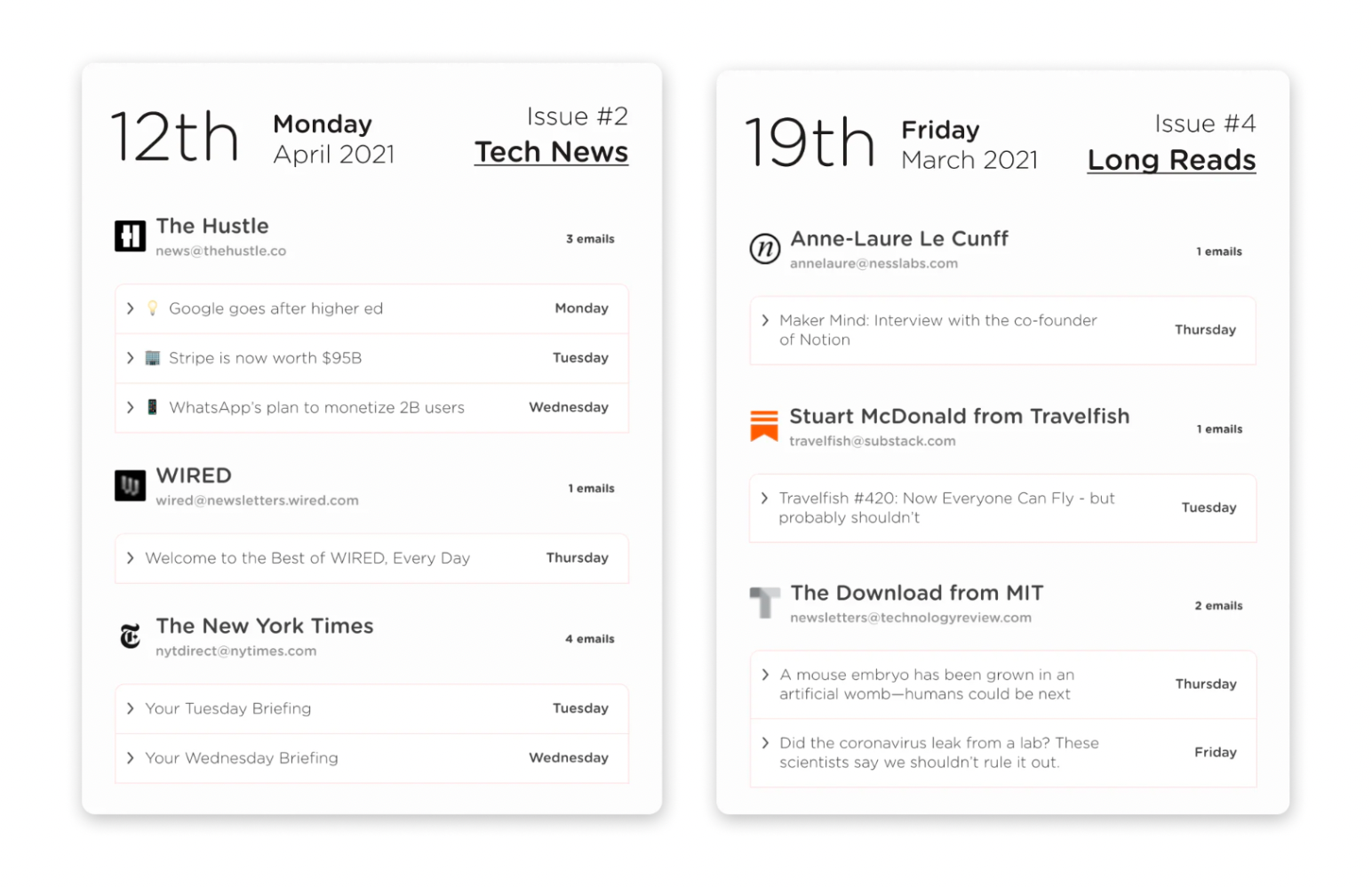 Set Aside Time for Emails
The continual popping of notifications can be distracting, inducing that email anxiety we're all trying to avoid.  In fact, after a notification has forced us to switch between tasks, it can take over 20 minutes to get back to the task at hand.  By turning off your email notifications and instead scheduling a regular time slot in your calendar for emails, you'll be able to improve your productivity and maintain focus.
How to turn off email notifications
Every device will be slightly different, but for most providers you should be able to head to the settings section of your device or mail application, find the notifications section, and disable the option related to email alerts.
Screen new emails before they land in your inbox
Now that your inbox is under control, and you have a system in place, let's make it even easier by stopping the emails you don't need (or want) before they even hit your inbox.  Another awesome feature available to Leave Me Alone subscribers is our Inbox Shield service.
The Leave Me Alone 'Inbox Screener' gives you control over who is allowed to contact you. When someone emails you for the first time, you can decide if you want to keep receiving their messages.  You can view your screened items either on the Leave Me Alone website, or we'll send you a daily email to inform you about the screened senders. You can take action from there, ensuring you won't need to worry as you will never miss anything important
'Casual Emailer' subscribers receive our screener service and unsubscribe blocklist. 'Inbox Zero Heroes' will receive the screener service and all blocklists, including our pre-built Spam, Social Media and Cold Email lists.  They also have the ability to schedule a 'Do-not-disturb' mode for their inboxes and activate a priority sender list ensuring certain emails land in your inbox right away.
Summary
In this world of email-driven communication, our inboxes can quickly become overwhelming, filled with unwanted subscriptions and a source of regular distractions.  By following our simple inbox management tips and utilizing our full range of services, you can declutter your inbox, regain control and enjoy a more productive email management experience.  Let's say goodbye to inbox anxiety and hello to efficient email management.