Cover photo by Ekaterina Shevchenko on Unsplash
Leave Me Alone has been growing steadily over the past 5 months and we couldn't be happier! It wouldn't be possible without our loyal customers, so a huge thanks goes out to every single one of you 💜.
Both James and I have been working really hard to make the service faster, the UI better, and unsubscribing from all of your email accounts easier.
We are very excited to announce that we have released a brand new major version - Leave Me Alone v2 is here!
Don't worry, the product you love is still the same but with some fantastic new features to play with.

So, what's new?
Clean all of your inboxes at once
You can now connect all of your email accounts and scan them together. This makes it easy to clear out all of your subscription emails from all of your email addresses in one go.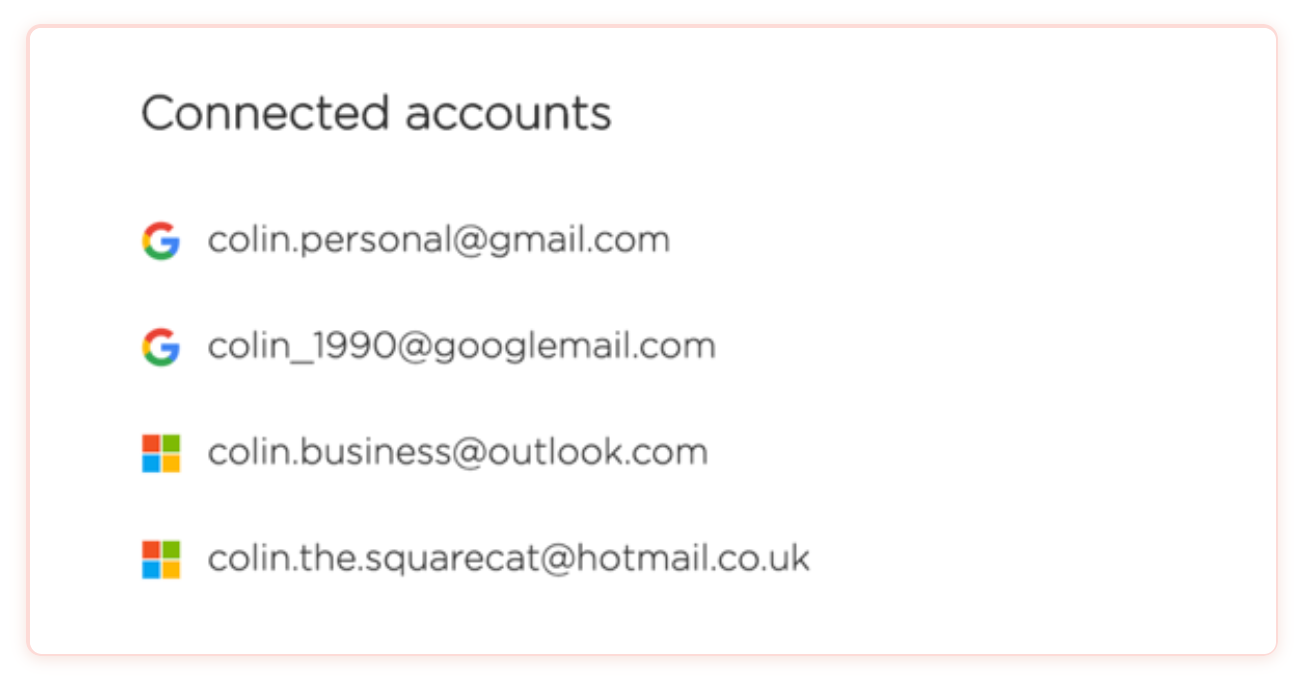 If you have previously used Leave Me Alone with multiple email addresses and would like us to merge them into a single account please let us know!
Improved mail list UI
The new mail UI allows you to filter your mail by email address and status (subscribed, unsubscribed, or failed), sort by date received or score, and navigate using the new pagination so that you can unsubscribe in a more manageable way.
We have made everything more compact so you can see more mail items while also increasing the amount of information we show you!
Your mail list will now be kept up-to-date with your inboxes so that each time you log in your new subscription emails will be ready to view.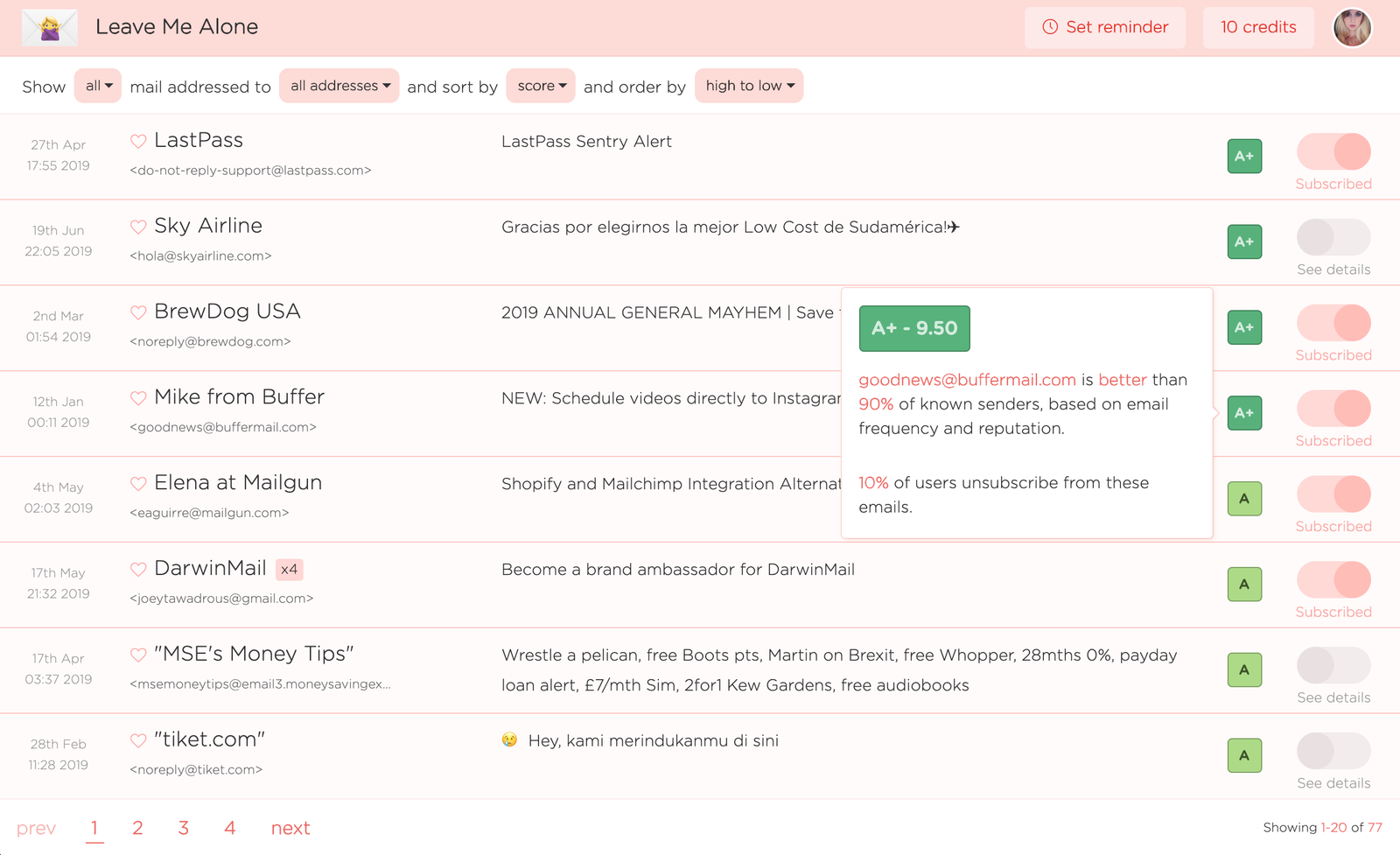 Subscriber Score
Every sender now has a quality score from A to F. This is our favourite new feature which makes it super quick and easy determine which emails are worth keeping.
To power Subscriber Score we collect some anonymous data about the senders of subscription emails. There's some secret sauce mathematics behind the scenes to calculate this score so you can see which senders spam you the most and how many other people decided to unsubscribe!
Find out more about Subscriber Score.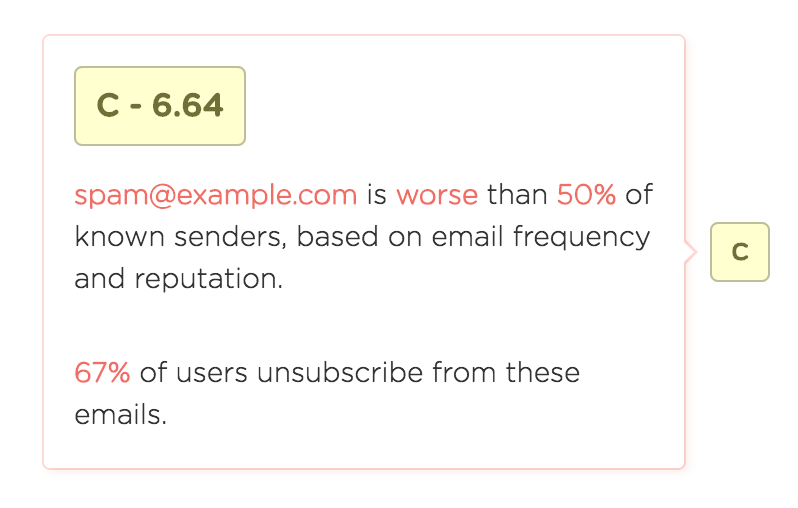 This information improves the quality of Leave Me Alone for all users. If you don't want to contribute your data to this algorithm for whatever reason then you can opt-out at any time from your account preferences.
Credits to unsubscribe
We have moved to credit-based pricing and now charge a really small amount for each unsubscribe. 1 credit = 1 unsubscribe so each time you unsubscribe from a mailing list it will cost 1 credit.
You will now see all of the subscription emails you have received, but you only need to pay for the ones you unsubscribe from.
Credits can be purchased in packages of different amounts - just purchase what you need!
You can earn more credits for inviting friends, tweeting about us, reaching milestones and more.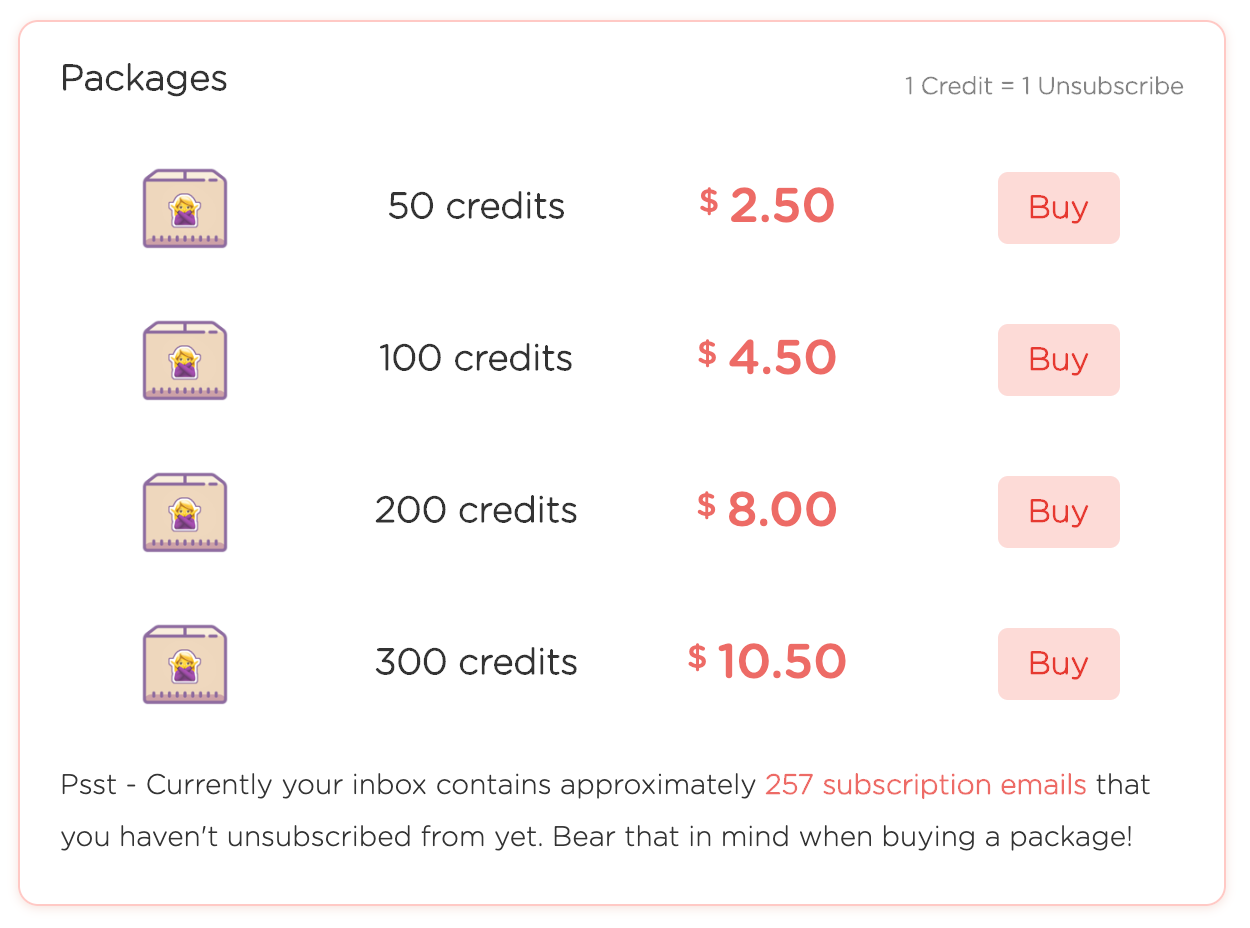 If you aren't sure how many credits to buy then you can find out how many you might need by using the our estimator on the new pricing page!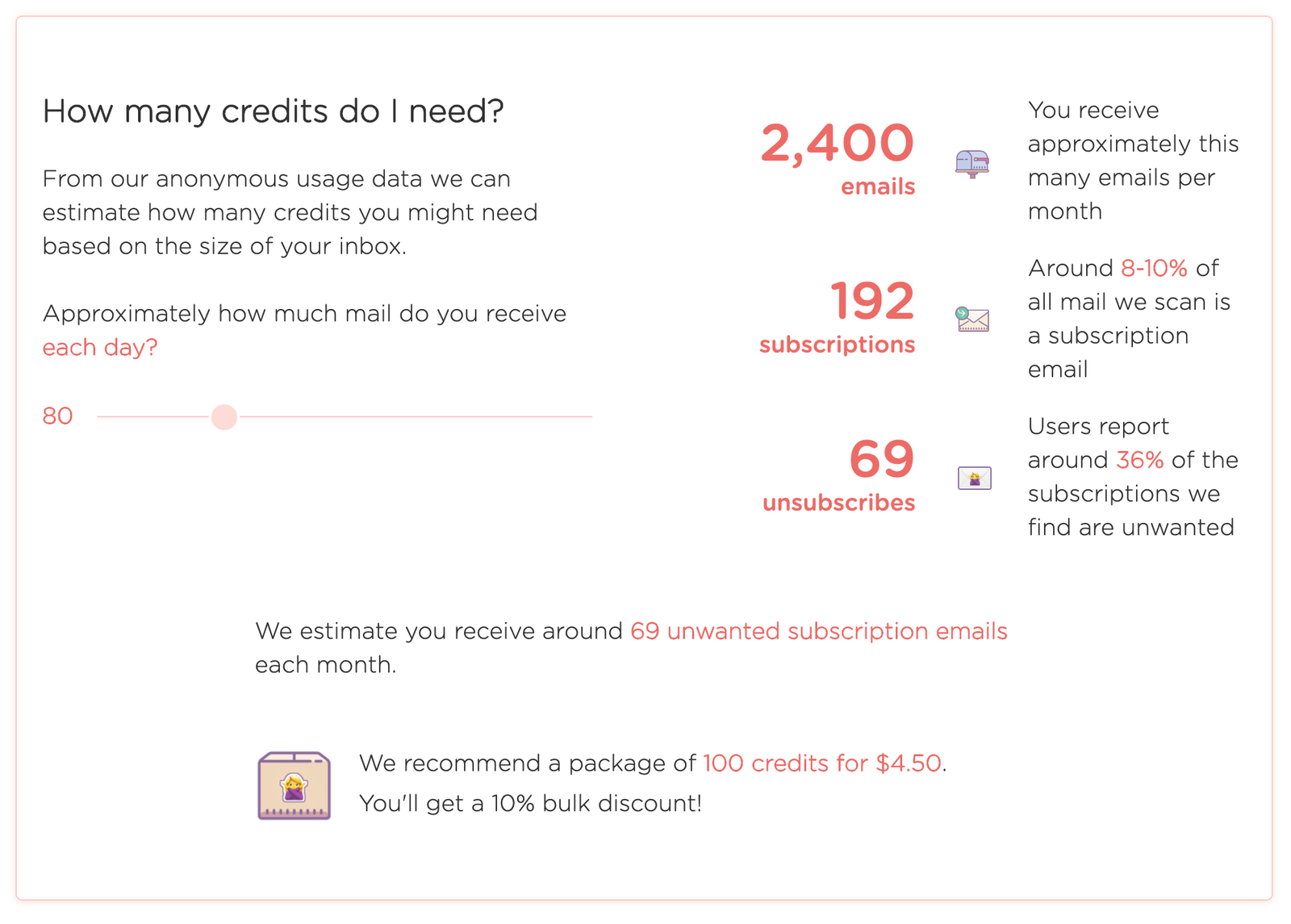 Password login + 2FA
You can now sign up and log in using email and password for better privacy, and add two-factor authentication for extra security!

If you currently log in with Google or Microsoft and want to switch to using email & password please let us know and we can change your account.
Even more open and transparent
We take security and data privacy very seriously at Leave Me Alone. We have a brand new page dedicated to data and security where we are completely transparent about:
What permissions we request when you sign in using Google or Microsoft
The data we store to power our statistics and Subscriber Score algorithms
How to revoke permissions and deactivate your account at any time
Our commitment to you and our security features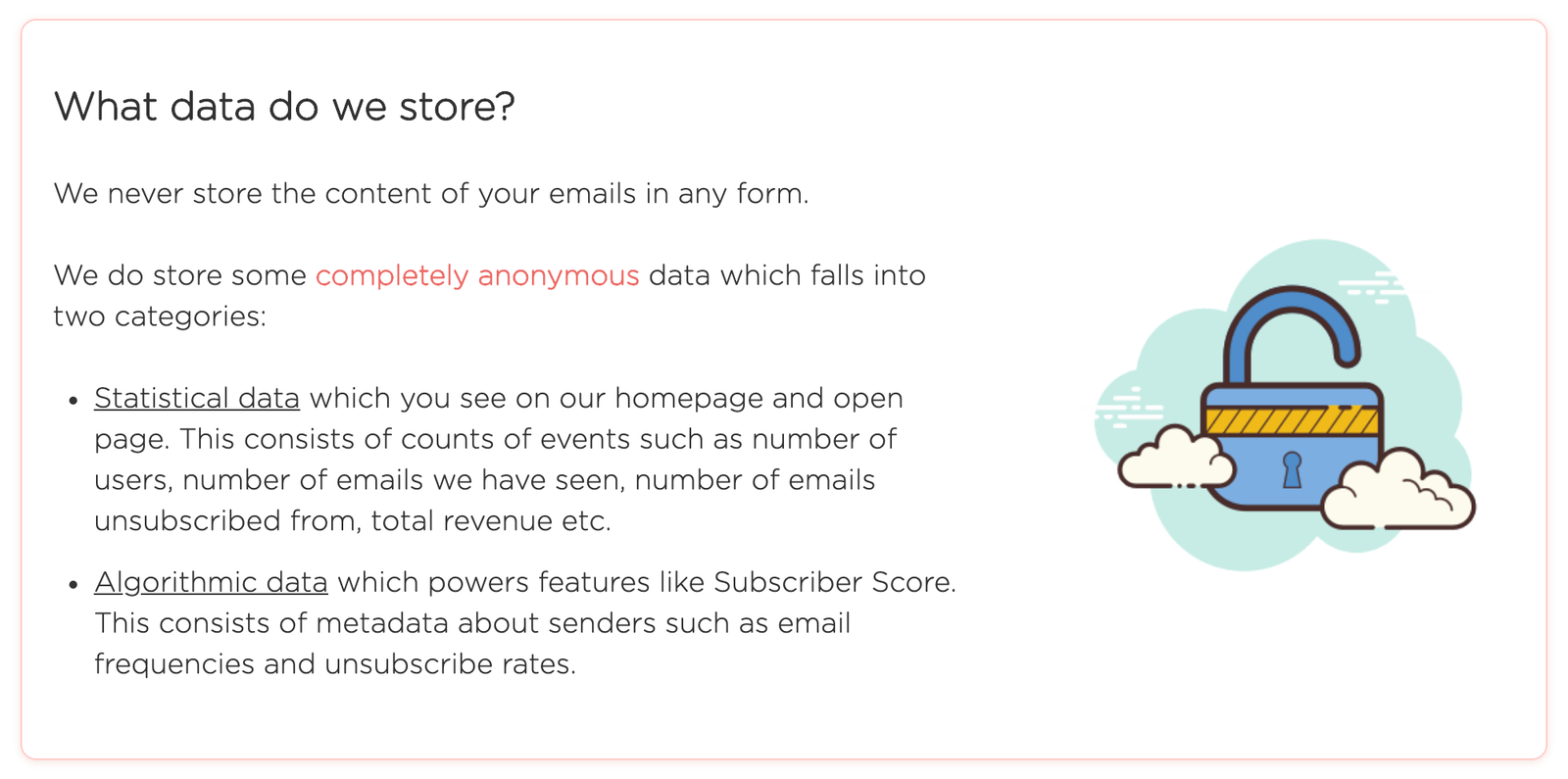 New landing page design
We have completely re-designed our home page to make everything more clean and simple.
The core features that we provide are are on our homepage. We now have separate pages where you can learn lots more about how it works, read about our security, find out what package you might need, and discover more about us and our mission.
Psst, did you have fun clicking to unsubscribe on our landing page?!
You can now find us at .app
Update your bookmarks and start sharing our new URL leavemealone.app!
We asked you about our domain and nearly 1000 of you voted - thank you! The results were loud and clear, products using .app are trusted more than .xyz.
We still love .xyz for prototyping and idea validation, but we are moving to a more recognised domain (especially outside the tech community) to help our reputation as we grow.
---
Leave Me Alone would not be the helping as many people today without your input and continued feedback. Thank you so much for following our journey!
We would really, really appreciate it if you could share Leave Me Alone and help spread the word.
As always, please reach out on Twitter if you have any questions, feedback, suggestions, or want to say hello.
Enjoy your clean inboxes!
Danielle & James