Receiving unwanted emails is annoying, distracting, and time-consuming all year round, but during the lead up to Christmas our inboxes become bloated with sales and marketing emails. Black Friday in particular turns an organised inbox into a total overwhelming mess. So, what can we do about it?
There is hope! This is exactly why we created Leave Me Alone.
Leave Me Alone shows you all of the newsletters, marketing spam, unwanted discounts, and other subscription emails in your inboxes, and you can unsubscribe with a single click.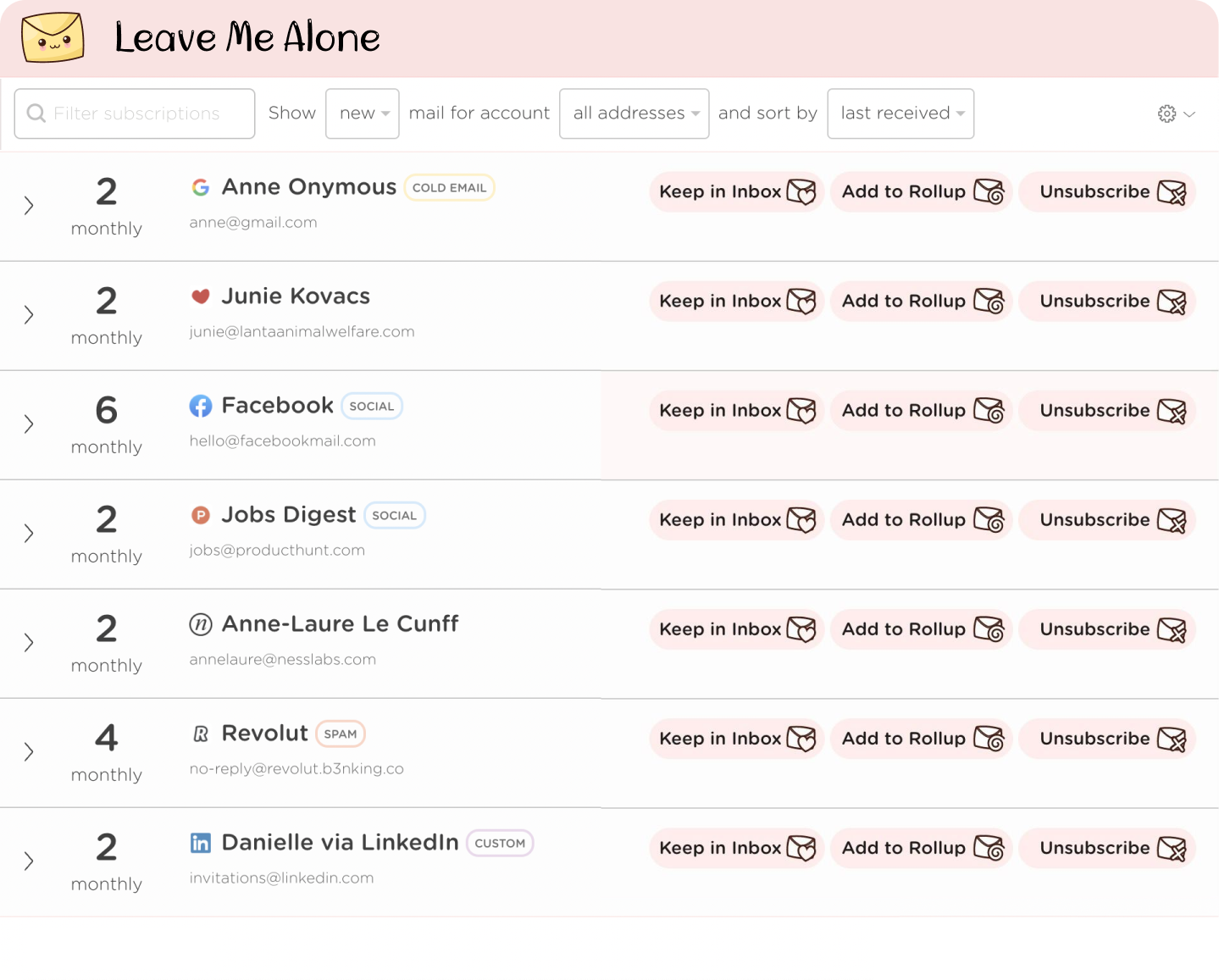 Why should I use Leave Me Alone?
We make unsubscribing from emails super easy! You can connect all of your mailboxes to one Leave Me Alone account and clear out everything together.
We support all Google and Microsoft accounts including Gmail, G Suite, Outlook, Hotmail, Office 365, Live, and MSN accounts, plus iCloud, Fastmail, AOL, and Yahoo.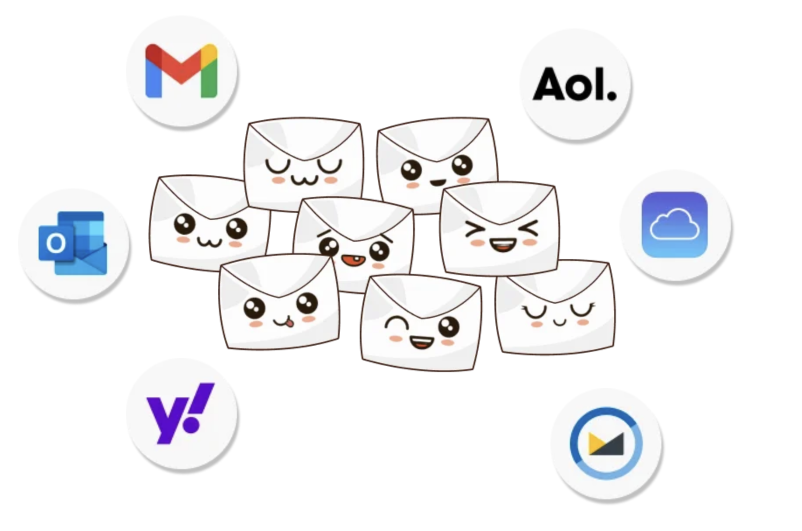 Leave Me Alone is built by real people. We are two independent developers who build software that helps people like you. If you have any questions or feedback for us please get in touch on Twitter or send us an email!
How does Leave Me Alone work?
We don't read the content of your emails but we can tell which emails are subscriptions. We do this by using some metadata - information about an email provided by the sender which you don't usually see.
This metadata has information about the mailing list and how to unsubscribe from it. Usually there is a link at the bottom of the email which you can click to unsubscribe. This link is usually included in the metadata, and we use this to unsubscribe you!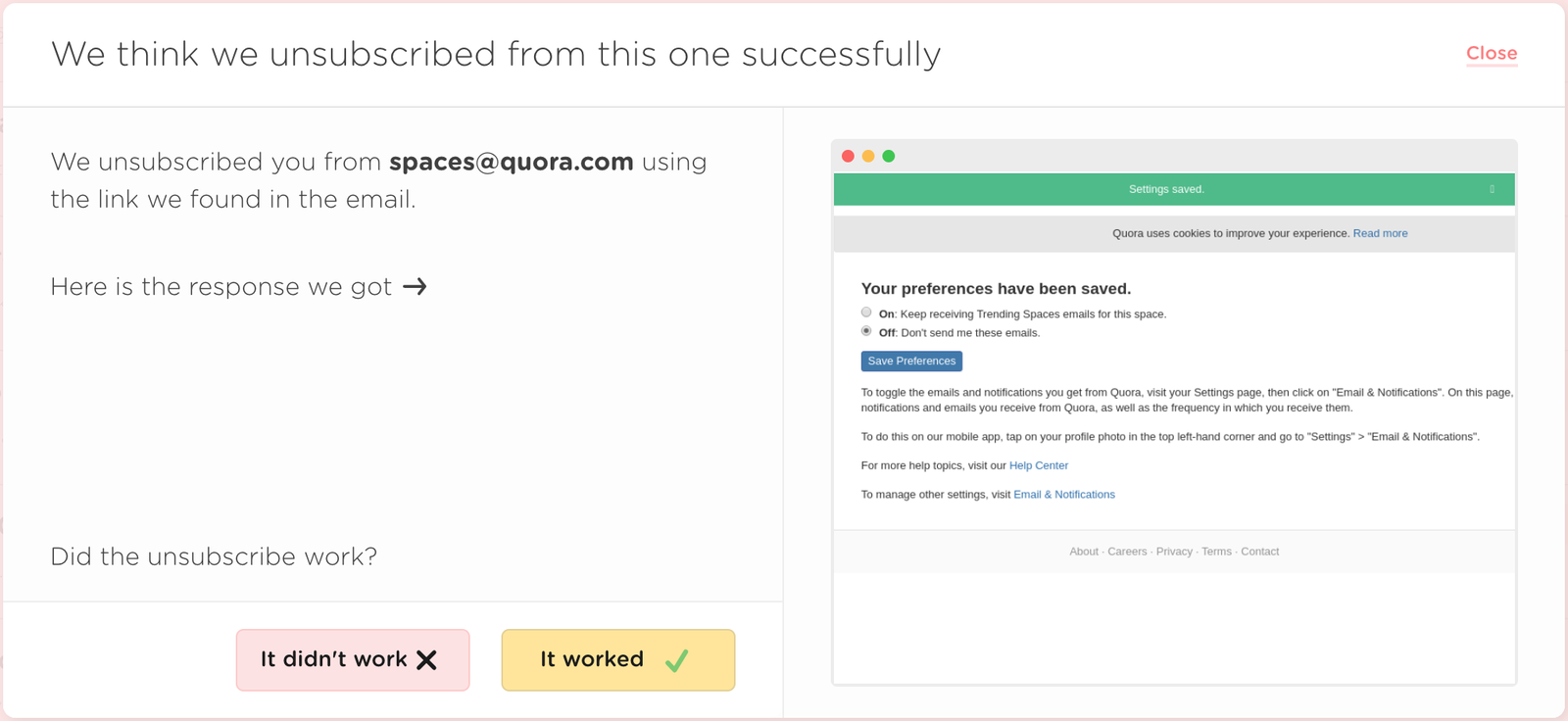 Sometimes an unsubscribe link is not provided. If this happens then we send an email to the sender, using a specific unsubscribe email address, asking them to remove you from their list.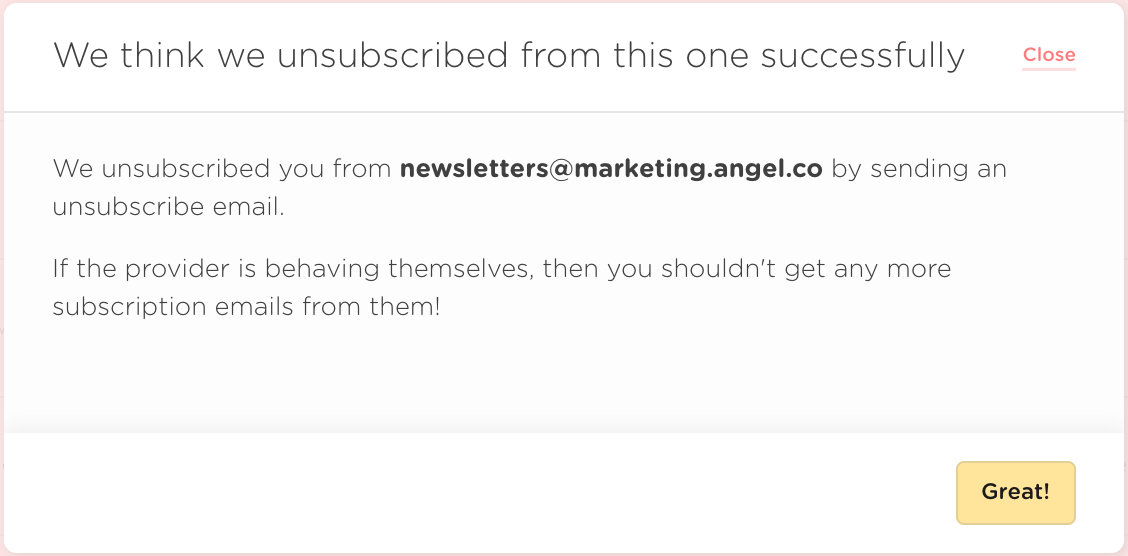 You can learn more about how Leave Me Alone works here!
Can I trust Leave Me Alone?
Leave Me Alone is a privacy-friendly email unsubscribing service. Being open and transparent is at the core of our business. We share everything about how we build our service, how our unsubscribing works, and our steps to ensure your data is secure.

When we scan your inboxes we only ask for the permissions we need, we don't store the content of your emails, and we will NEVER sell any of your data. You can deactivate your account at any time which will remove all of your data, revoke all API keys, and sign you out. Don't worry though, you are not tied to our service and any emails you unsubscribed from are gone forever!
Leave Me Alone is a paid service (so that you know we don't need to sell your data to keep afloat), but we've tried to keep our pricing as fair and affordable as possible.
How can I get started?
Black Friday weekend is the perfect time to use Leave Me Alone. Most of the mailing lists you are subscribed to will spam you with marketing emails. This means that they will show up in your Leave Me Alone scan and you can unsubscribe from them easily once and for all!
It's super easy to get started:
Sign up and connect your email accounts
See all of your subscription emails
Start unsubscribing!

---
Have a great weekend y'all!