Email spam is an old problem and it's filling our inboxes more than usual. In 2022, an average of 48.63% of emails worldwide were spam.
Do you find your email inbox flooded with a never-ending stream of messages from Amazon, Facebook, Reddit, or any ecommerce that you ever shopped with?
We know that many people may made peace with as it is time-consuming and frustrating to unsubscribe from each spam email individually. Luckily, this is exactly why we created Leave Me Alone to help you unsubscribe from unwanted emails and keep your inbox organized.
How does Leave Me Alone work?
Leave Me Alone helps you to get rid of unwanted emails with just a few clicks in all of your mailboxes. One of the things that make Leave Me Alone stand out is that it supports all popular email providers like Gmail, G Suite, Outlook, Hotmail, iCloud, FastMail, and Yahoo, as well as other providers that work with IMAP.  It is also compliant with the General Data Protection Regulation (GDPR) so you can use it in EU.
How to unsubscribe from spam emails using Leave Me Alone? Here's how it works:
Connect your email accounts: The first step is to connect all your email accounts to Leave Me Alone. We support all major email providers, including Gmail, Yahoo, and Outlook. We have a detailed guides on how to connect your email account that would guide you through the process. Once you've connected your accounts, Leave Me Alone will scan your inbox and identify all the emails you may want to unsubscribe from.
Review your subscriptions: Once Leave Me Alone has scanned your inbox, it will create a list of all the subscriptions that you are currently subscribed to. You can then review this list and decide which subscriptions you want to keep and which ones you want to unsubscribe from.
Unsubscribe easily: Leave Me Alone will take care of the entire process for you. All you need to do is click the Unsubscribe button for specific senders. You don't have to go through the hassle of manually clicking through multiple emails and unsubscribing.
Manage your subscriptions: Leave Me Alone also allows you to manage your subscriptions and keep track of the ones you want to keep and the ones you want to unsubscribe from.
Leave Me Alone has an easy-to-use interface that makes managing your inbox simple and intuitive. It provides many features that make it a great choice for anyone looking to take control of their inbox while protecting their personal data.
Which email providers does Leave Me Alone support?
Leave Me Alone supports email providers that have IMAP. So whether you prioritize privacy, need more advanced email features, or use a popular email service, Leave Me Alone can help you easily unsubscribe from unwanted emails across all your mailboxes.
Here's the list of email providers:
1.Major email providers: This group includes popular email services such as Gmail, Google Workspace (formerly G Suite), Outlook.com, Yahoo, and iCloud. These providers have a large user base and are commonly used for personal and professional email communication.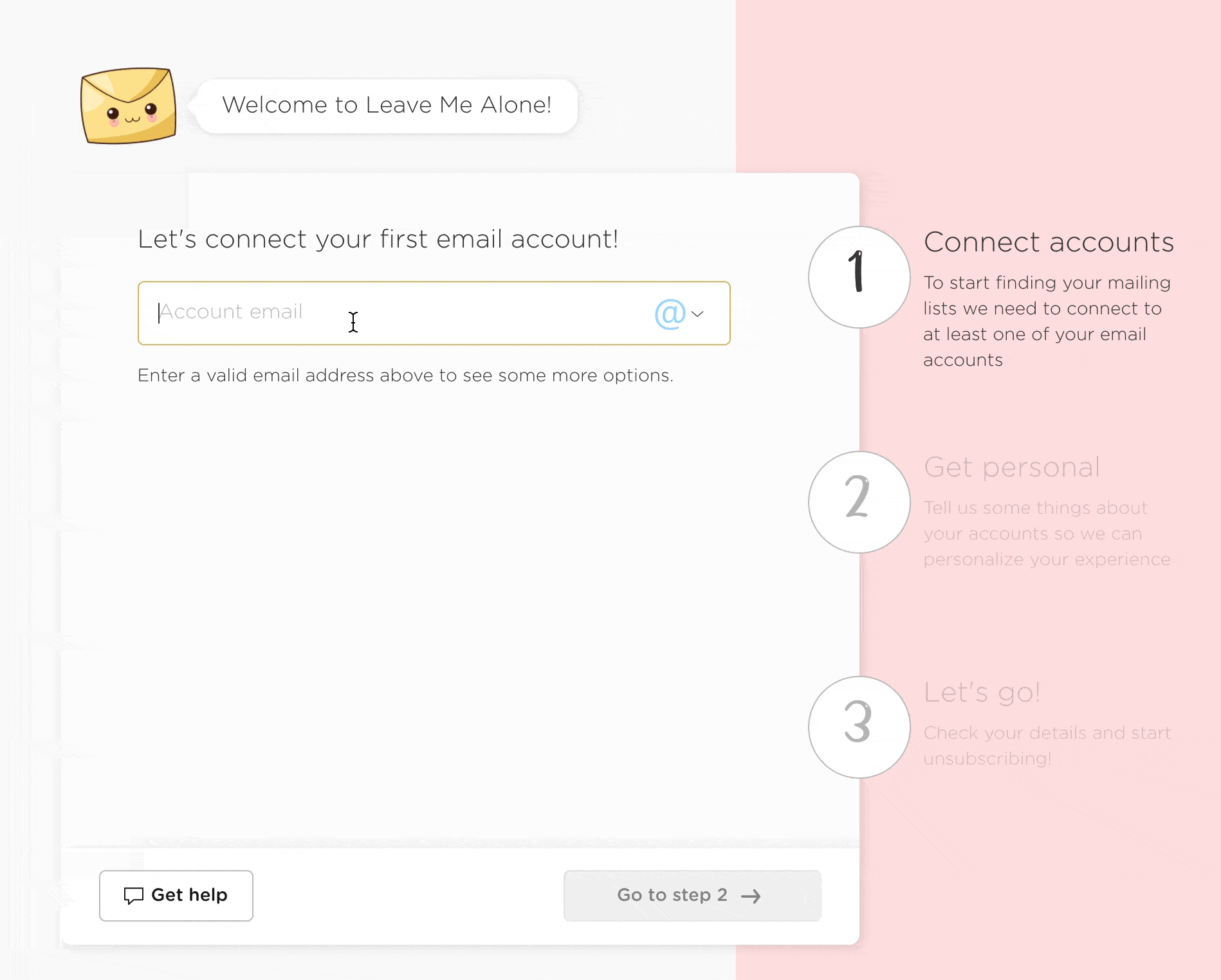 2. Alternative email providers: This group includes email services such as FastMail, Runbox, and Mailfence. These providers offer features such as custom domains, advanced spam filtering, and email aliases. They are often used by small businesses, freelancers, and power users who require more advanced email features than what is offered by mainstream providers.
3. Other email providers: This group includes a variety of email providers, such as Zoho Mail, Yandex.Mail, AOL, and Hushmail. These providers can be based and used in particular countries. They offer a range of features and may be particularly useful for people with specific needs, such as those who use email for work or who communicate with people in different countries.
Ensuring your privacy and security with Leave Me Alone
One of the advantages of Leave Me Alone is that it is secure and respects your privacy, so you don't have to worry about your data being shared with third parties.
Leave Me Alone does not store or share your personal information and operates entirely within your web browser. As a result, it complies with the General Data Protection Regulation (GDPR) data protection law that sets out guidelines for how companies must handle personal data.
Leave Me Alone ensures that its users' personal information is protected according to EU standards by supporting GDPR. However, all other users around the world can also trust that their data is being handled responsibly and that they have greater control over who has access to their personal information.
Keep your inbox clutter-free and save time by unsubscribing from unwanted emails in just a few clicks.  Try Leave Me Alone.