Leave Me Alone receives some organic traffic from searches for alternatives to our competitors; such as "alternative to Unroll.Me". Inspired by this marketing advice from MarketingExamples.com, I created landing pages that target these queries for each of our competitors. Hopefully this is a great way for more people to find Leave Me Alone and to help them to compare us with the competition.
This marketing technique could be seen as a bit cheeky, but these pages are intended to help people who are already searching for an alternative to another service to find us and see what we offer. This should work well because the leads will be better qualified than regular traffic as they are already looking for an alternative.
Our three main competitors are Unroll Me, Unsubscriber, and Cleanfox. I created comparison pages for Leave Me Alone vs. each of them.
These landing pages are supposed to encourage people to use Leave Me Alone instead of the competition, but I have been fair to our fellow businesses. I researched each of them, checked out their features, and read their privacy policies before making any claims.
Using Harry from Marketing Example's advice I crafted each of these pages with the following in mind:
Focus on pain points
The first thing I did was find out the main pain point for users of our competitors services. Unroll Me customers are concerned with privacy and data security after data-selling scandals hit the press. Unsubscriber don't support Gmail anymore and they discontinued their customer support. Creating pages for both of these services was easy, since Leave Me Alone provides the same service that both Unroll Me and Unsubscriber do - unsubscribing people from unwanted mailing lists, but we have loads more features and a commitment to our customers' privacy.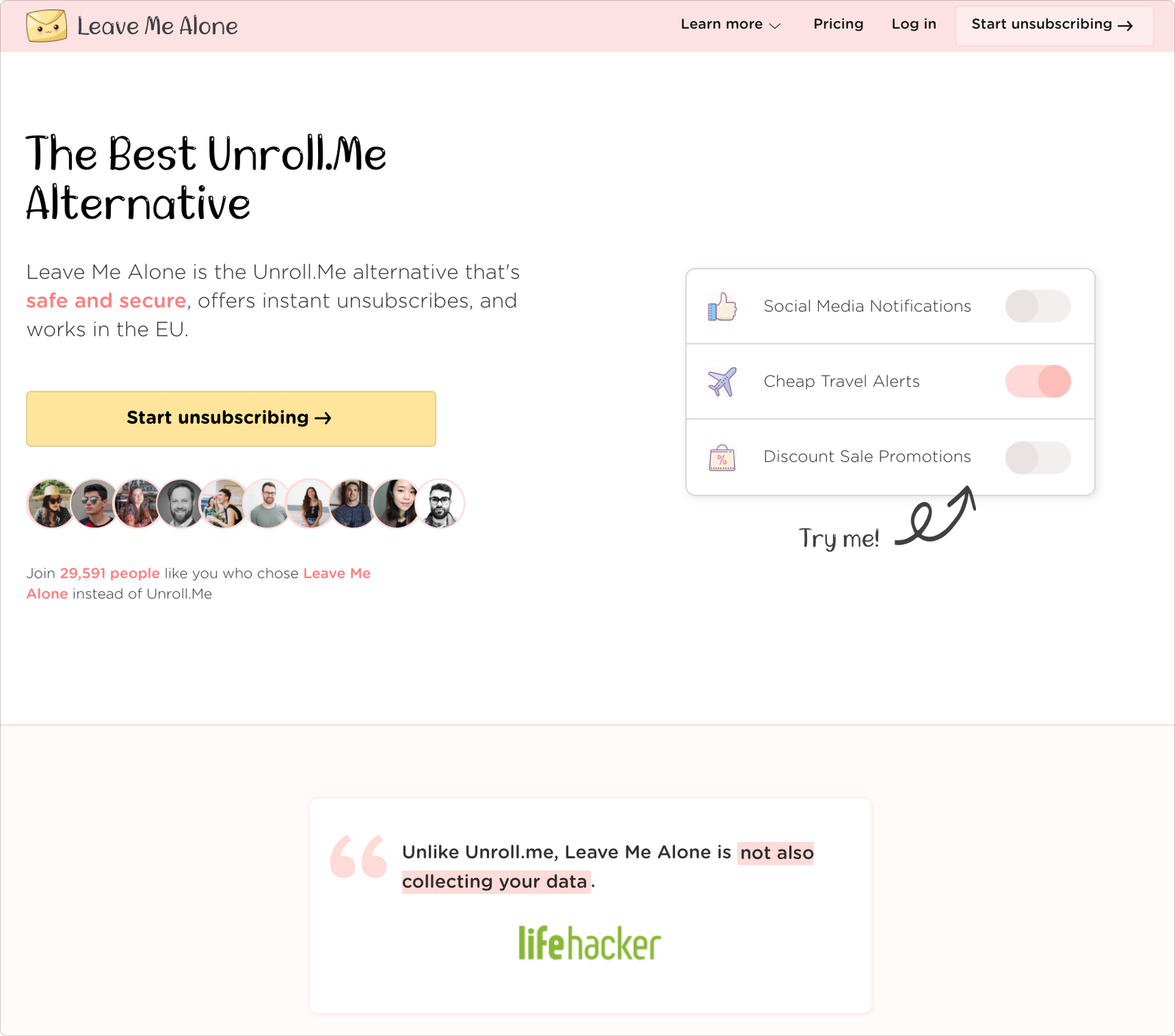 Cleanfox are a great service. They are a market-intelligence company that sells anonymized data, but they have a great privacy policy that respects their customers privacy. Also, like us, they also raise awareness of the carbon footprint of emails and help to offset it by planting trees. Leave Me Alone is slightly different as we never sell any data - even anonymized. Plus, we provide a better user experience for unsubscribing by ranking subscriptions and allowing various sorting and filtering.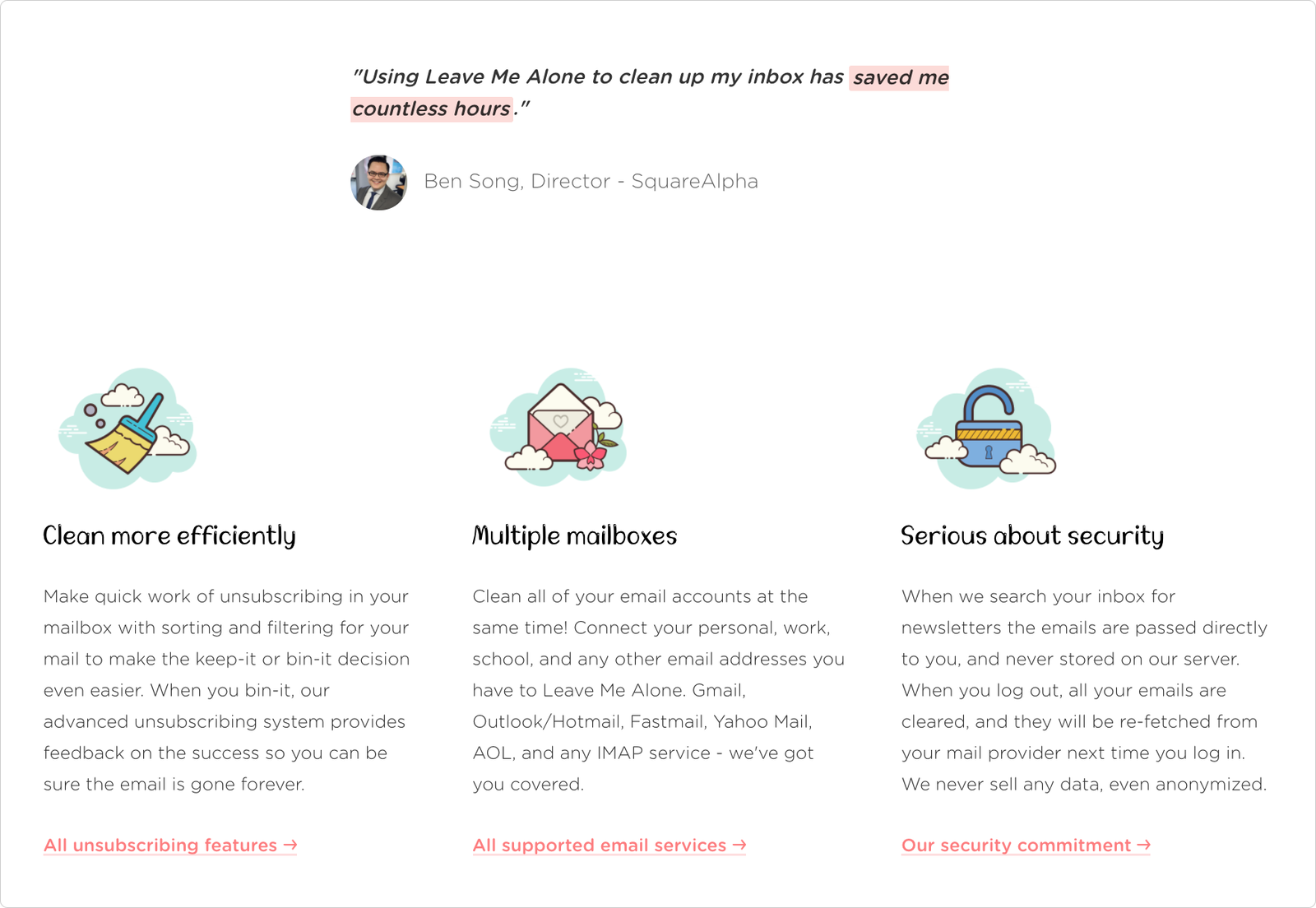 Compare features
The quickest way for a potential customer to see the differences between Leave Me Alone and the competition is with a comparison table. The features that I compare are designed to highlight each competitors deficiencies.
On the Unroll Me page I show that Leave Me Alone is available in the EU and EEA and Unroll Me is not, because Unroll Me stopped working for customers in the EU it's something previous customers are looking for. For Unsubscriber I show that Leave Me Alone works with Gmail so that visitors looking for an unsubscribing service that works with Gmail can easily see that we do.
When a competitor offers the same feature that we do I was sure to include a check mark for both. Both Cleanfox and Leave Me Alone sort newsletters by number of emails received, fight digital pollution, and allow you to connect all of your mailboxes.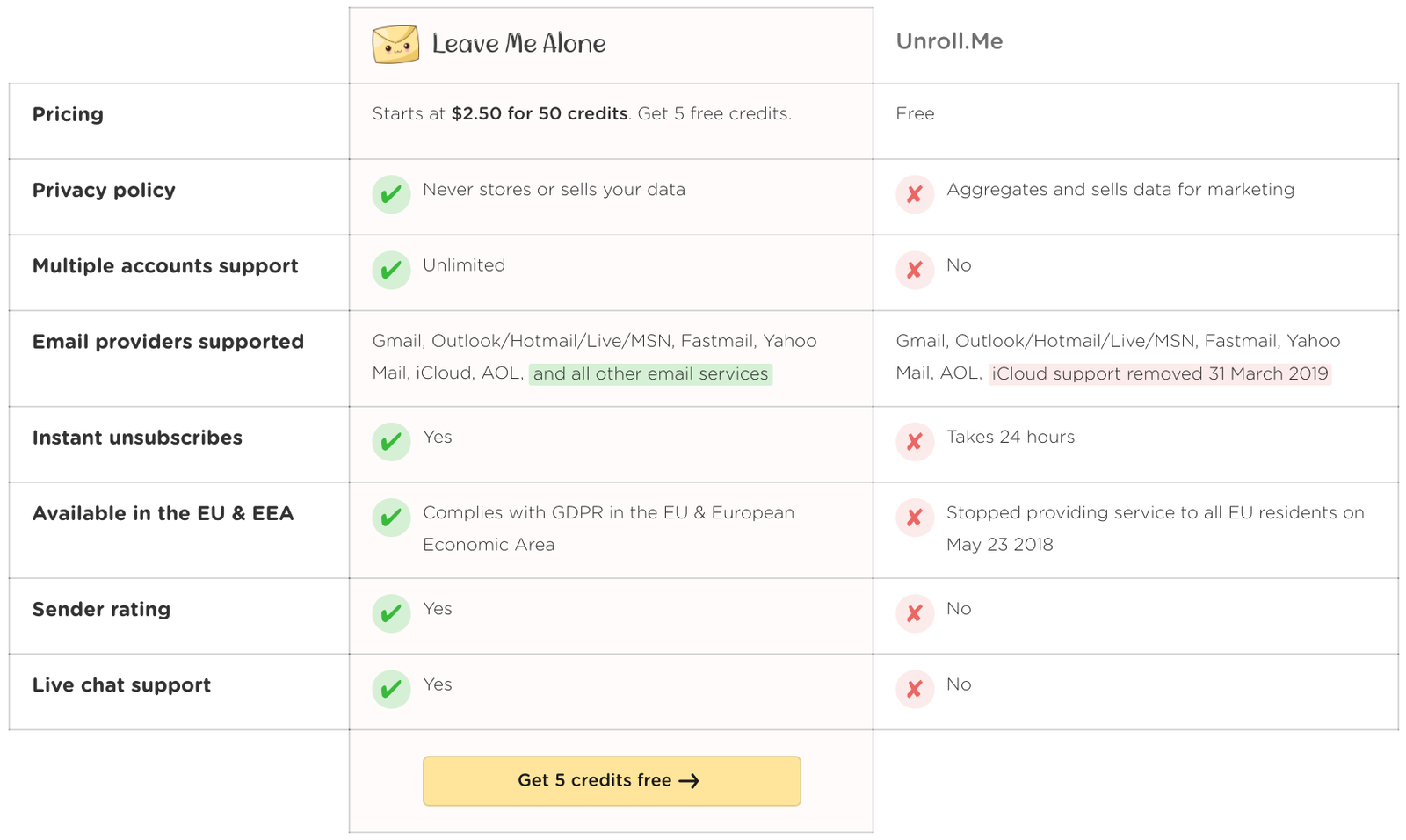 Use targeted social proof
Social proof is incredibly important and provides very valuable validation to potential customers. We have testimonials and press quotes sprinkled throughout our landing pages, a news page showcasing all of the publications that write nice things about us, and a dedicated Wall of Love for all our wonderful customer testimonials.
This is arguably even more important for competitor landing pages. Visitors are already users of a different service, and they are unlikely to switch without social validation and proof that we are a great service, so I was sure to include several pieces on these pages.
For the Unroll Me page we are lucky to have lots of targeted social proof praising Leave Me Alone as a better and more privacy-focused service from publications such as Lifehacker. For our other competitors I selected other relevant, but less targeted, testimonials and press that highlight our commitment to privacy and showcase the value Leave Me Alone provides.
Defend territory
Alongside each competitor landing page we also have a "Leave Me Alone alternatives" page, where we compare ourselves to all of our competition. The goal of this page is to give visitors advice on what to think about when they are deciding on an unsubscription service, and to show all of the differences between us, Unroll Me, Unsubscriber, and Cleanfox together.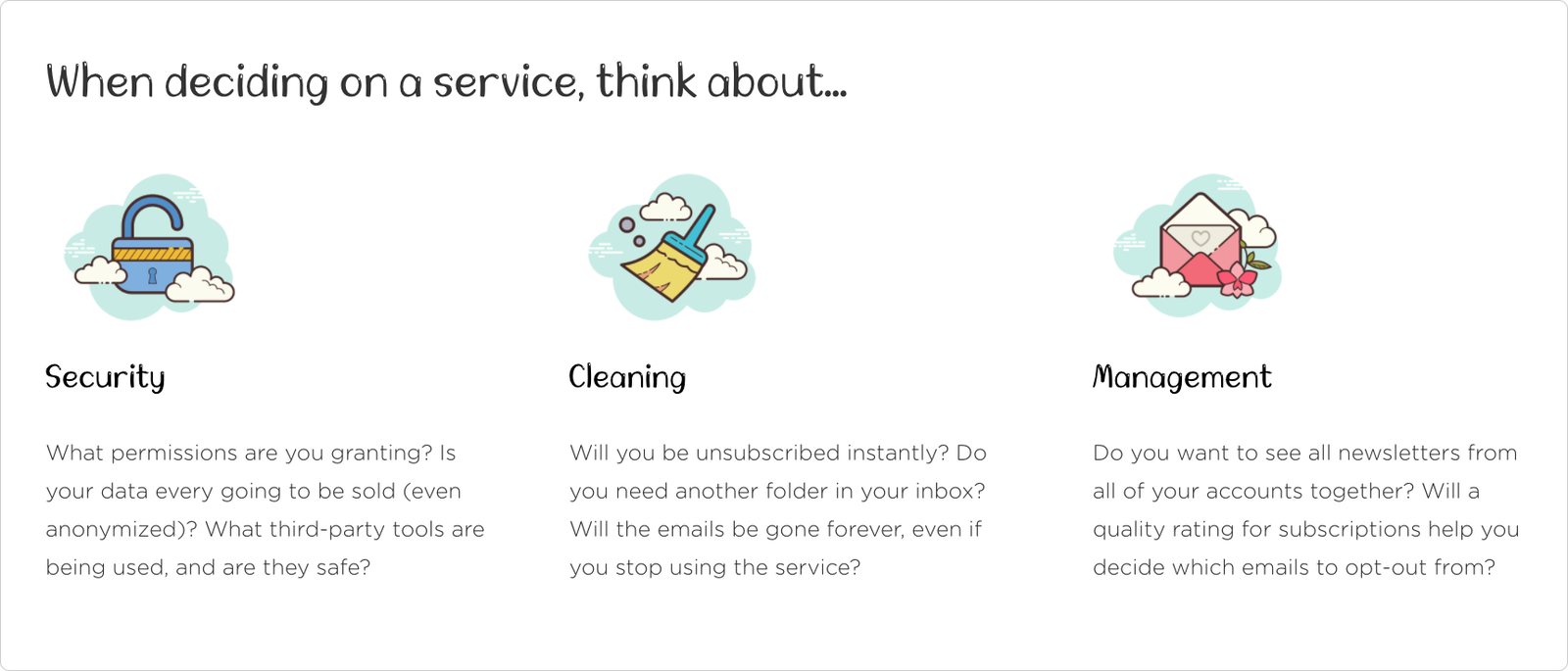 We have a big comparison table with all of the features we listed on each individual competitor page. The green ticks and red crosses allow visitors to scan quickly and see the differences at a glance. There are also links to each competitor page so that people can dig deeper into the differences between Leave Me Alone and a specific service - especially if they've used one of the listed services in the past, they'll be more interested in the comparison.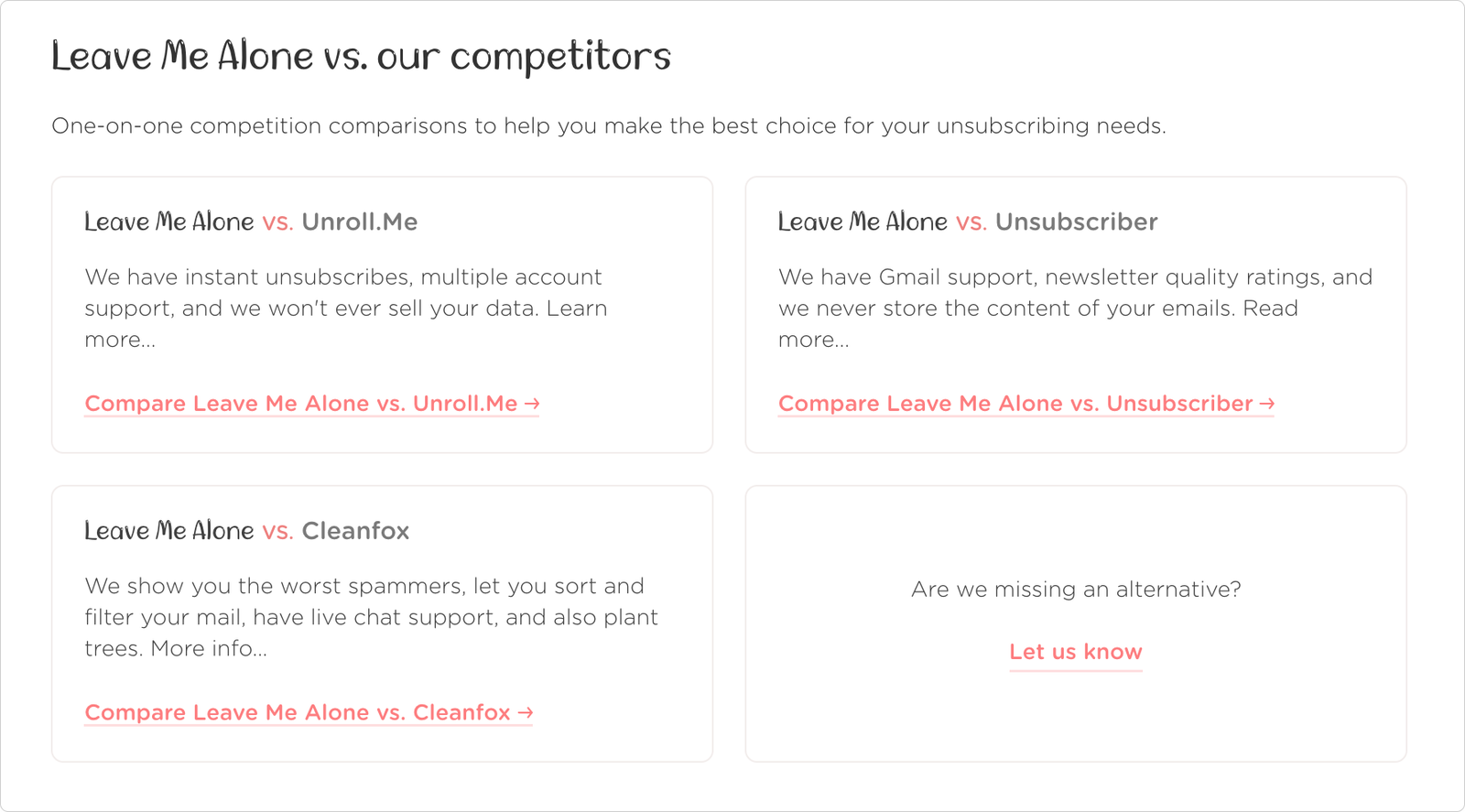 ---
Our new landing pages only went live this week, so I can't say if they're working just yet. If you're reading from the future, you can see all of our analytics publicly here and hopefully they are getting lots of traffic!
You can also check out each of the pages here:

Cover photo by Javier Allegue Barros on Unsplash